The Forum, Pompeii, Italy, with Mount Vesuvius volcano in the background
The day I visited the Lost City of Pompeii was an ominous day, threatening rain as I walked the site in southern Italy, near Naples. I visited Pompeii with my family, and we didn't know much about Pompeii when we arrived, but were amazed by it all when we left. Wow, what an experience!
the view toward Naples, Italy, from Pompeii
ruins of Pompeii, Italy
Like all of the travels in the past three years we've lived in Prague as expats, we never dreamed of getting to experience it, especially with our family. (Pinch me, I always think … this is such a dream. Very grateful!) We drove from Prague, straight south, through Munich, Germany; Innsbruck, Austria; Brennero Pass, Italy in the Dolomite Alps; Verona, Italy; through Tuscany, Umbria, Lazio; past Rome and into the Campania region of Italy, along its southwest coast. The trip, though it sounds too far to drive, was a manageable 1000 miles. (We like to drive, to see places.) Europe is amazing by car.
A Street leading toward Mt Vesuvius, Pompeii, Italy
Pompeii
We stayed in Praiano, along the stunningly beautiful Amalfi Coast, near Positano, and took a day trip to Pompeii. The biggest surprise about Pompeii was the size — it is an enormous city from so long ago, of about 160 acres, only 5 miles from the volcano Mt. Vesuvius that destroyed it in 79 AD.
An Interior Arch, Pompeii
Visitors to Pompeii can walk and walk and walk, along roads that have existed since the original city. Some are even marble. We saw people from 79 AD who had been trapped by the 24 hour rain of ash and turned to stone from the violent flow of lava that followed.
Person frozen in time, Pompeii
The same catastrophic flow of lava tore roofs off of buildings, yet sealed and preserved the city of Pompeii below for 1700 years.
Pompeii, ruins of the Temple of Jupiter
Having also visited the Acropolis in Athens, Greece, this year, and the ancient city of Mycenea on the Peloponnesian Peninsula in Greece, I highly recommend visiting the lost city of Pompeii in Italy as an alternative. The excavation site of Pompeii is that well-done.
the Ruins of Pompeii, Italy
I particularly loved seeing the original pieces of life from Pompeii: the kitchens in restaurants, the pools, the architectural beauty of doorway thresholds and inner chambers and forums. And the frescoes … I loved the frescoes.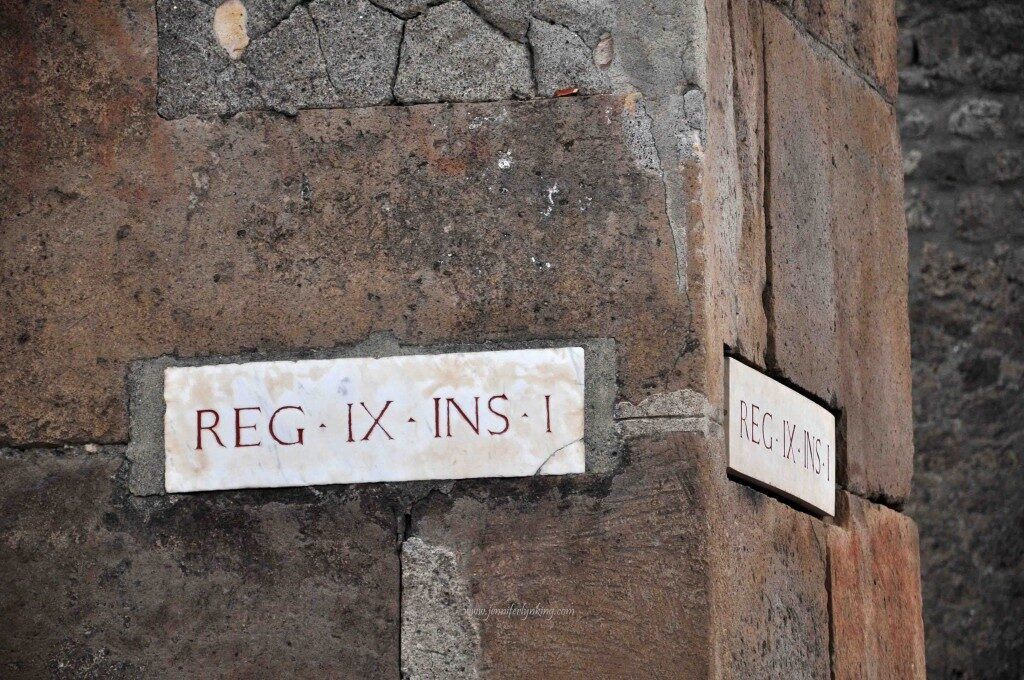 Street sign, Pompeii
Most of all, I was struck by the importance of art. Because in seeing the art left behind by a civilization from so long ago, we can understand their values, the pieces of beauty they thought important in their time. We can look back now at their ruins and understand just how advanced they really were …
Art is important. Art transcends time.
Richly-detailed fresco on an arched ceiling, Pompeii, 79 AD
There are so many things to learn from the past, especially clear after visiting a wonder like the Lost City of Pompeii. It was a dream to get to see it, and is a dream to get to share it here with you!
For you: Have you visited Pompeii? What things do you see in the photos or from your visit that strike you as interesting?